Product Guide: Advanced Queries
Introduction
Chartbeat's Advanced Queries gives you total control of your historical data and the freedom to create any number of customized reports to help evaluate your unique goals.
To get started just click on the Advanced Queries link on the left-hand navigation bar in your Chartbeat Publishing Dashboard.
Main Metrics
Every report you'd want to build is created through a combination of metrics, groups, and filters:
Metrics are the actual data point that you're interested in seeing, for example Average Engaged Time, unique impressions, or scroll starts.
Groups let you organize the data that's returned to you, for example into cities, loyalty types, or a series of hours throughout the day.
And filters let you only focus on a particular layer of data, for example if you just wanted to see the metrics for a particular section, referrer type, or page path.
For a full list of all acceptable metrics, groups, and filters, check out the Advanced Queries Docs page.
Additional Parameters
The other required parameters are arranged on the top part of the Advanced Queries UI:

Site: The domain you want data for. If you have access to more than one domain, they'll appear in the drop-down here.
Metrics Set: Specifically it's the API endpoint that you want to pull data for—'Page' is the default and includes all Publishing metrics. If you're using the Video Suite to track your video data, you'll have access to all the video data here.
One Time vs. Recurring Report: Toggle back and forth to specify whether you want to build a single report over a given time frame or set up a daily, weekly, or monthly recurring report.
Date Range: If you're making a one-time report, use the calendar boxes here to specify the date range you want the report for.
Number of Rows: Defines how many rows of data to be returned in the spreadsheet.
Getting Started
New to building historical reports? No fear. We wanted this tool to be accessible to everyone in the newsroom, check out the Advanced Queries Cheat Sheet on the right-hand side of the page, just select the arrow at the top right of the page to expand it.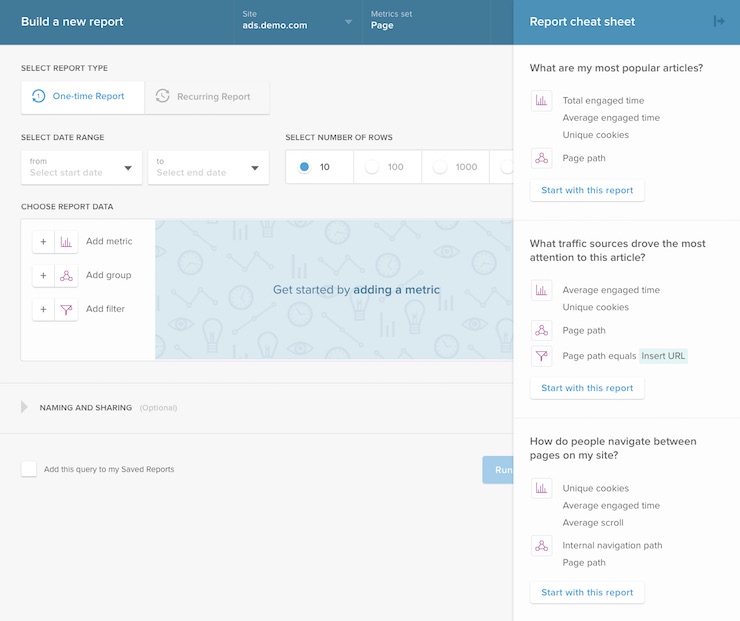 These reports reflect the kinds of reports most frequently created in the newsroom, and when you select the 'start with this report' button, it auto-fills the required metrics, groups, and filters into the UI itself, so you can begin to get a hang of how these parameters work together to create reports, and how you can add additional parameters to tweak them to your preferences.
With the Naming and Sharing section you can give a custom name to any report you've built and even have it auto-send to any number of Chartbeat logins. That way an article-specific report can be sent to the author and the section editor, a homepage-specific report can go directly to the homepage editor, or a weekly ranking of most engaging articles could be sent to the whole team.

Settings
Using the left-hand menu you can access all saved and archived reports (any report that you've created in the past) so you can easily go back to them and either run them again, or slightly change its contents so you don't have to start all over.
Check out the Settings panel to be sure your time zone is correct (if not, have your Account Admin head over to the Domain Management part of the settings page), and to manage email settings and the Slack integration.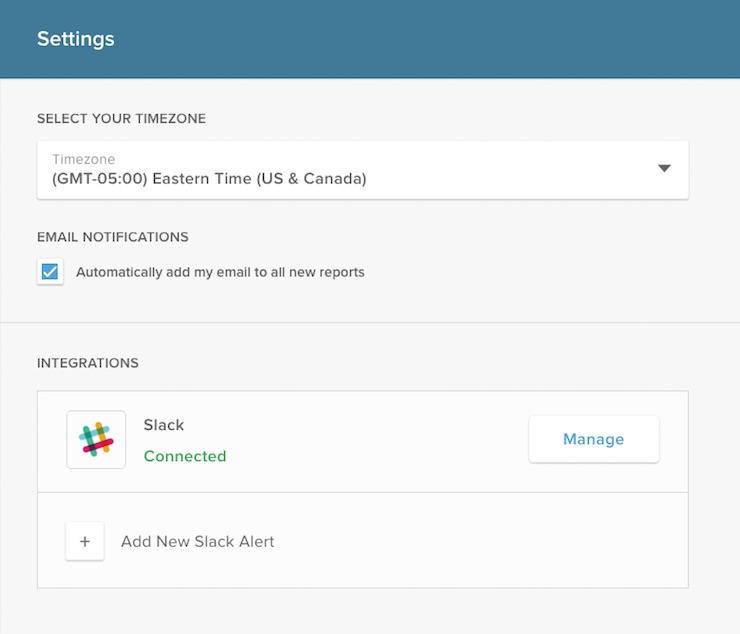 Chartcorps Insight: Once you're feeling comfortable with creating your own reports, reach out to your Customer Success Manager and ask them for help integrating Advanced Queries API Endpoints into a custom spreadsheet, uniquely aligned with your organization's goals, that automatically updates on a regular basis—like the one demo'd at the end of the Advanced Queries Crash Course webinar.
Not sure who your CSM is? Just drop a note to the Chartcorps at support@chartbeat.com and they'll take care of you.